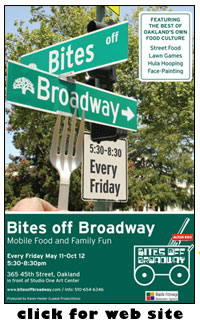 In front of Studio One Art Center
365 45th Street near Broadway, Oakland

Featuring the best of Oakland's own food culture. Lawn Games, Hula Hooping and Live Music
Info: 510-654-6346

Blogs and Newsletters about Bites!
If you are interested in having a food cart at event at event, please contact Karen Hester at
karen@hesternet.net
for an application.
Pay your Vendor Fee Online
---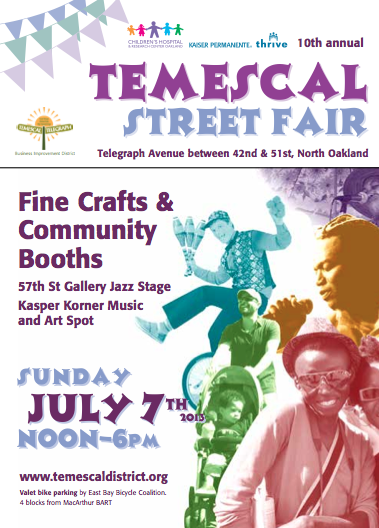 Telegraph Avenue between 51st and 42nd
What started in 2004 as a little street fest sponsored by a small group of local merchants has blossomed into one of Oakland's premier cultural events. In 2005, the
Telegraph Temescal Business Improvement District
(TTBID) took over the fair's sponsorship and, since then, the event's growth has been exponential. This year, there will be four stages (the Main stage, Kid's stage and two Jazz stages) and three additional blocks of vendors, offering even more chances to promote local artists, craftspeople and creative dare-to-doers, representing the area's rich tapestry of creativity and culture.
For non-profit booths, contact
Karen@hesternet.net
For food booths, contact
Steve@shastapros.com
If you'd like to be placed on the list to receive an application for 2014, please email Karen@temescaldistrict.org
---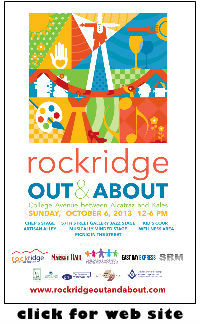 College Avenue between Alcatraz and Manila Avenue
College Avenue will transform into a street festival focusing on the retail merchants, businesses and services located on College Avenue. Live Music, Chef Stage, Market Hall's Picnic in the Street, Wellness Tent, Kid's Area, Rockridge Merchant/Artisan Marketplace, Gourmet Food & Beverage Booths, Street Entertainment.
For information and booth applications, please visit www.rockridgeoutandabout.com
---
Other Craft Fairs of Note and Who to Contact: